Hi! It's me! Lily!
It seems like all we're doing is travelling! Jack, Sabby, and I went to Houston today to see Emiko!
Jack's never been to Houston. The Katy Freeway is impressive!!!
Anyway, Jack met Emiko and her family. She made a nice Japanese lunch. Aika and Mika quite obviously had a crush on him… awww. Now they know how David feels about them. Everyone seemed to get along, though. Emiko seemed torn, though. Like she wanted to be motherly, and grill him, but didn't feel comfortable. So that was a little awkward.
Emiko told me he seemed like a nice boy, and seemed particularly intense when she talked about what it was like to be pregnant without the father anywhere around. She made absolutely clear that she didn't wish that on me, and if he was planning to do anything like that, he'd better just walk away now. I wish she'd phrased it a little better, but I love her for saying it.
Jack, bless him, looked her straight in the eyes, and said "Two things. Firstly, Lily has made it very clear that the only way 'that' is going anywhere near 'there' is if we're married, and while that can be frustrating, I agree with her and am respecting that. Secondly, if Lily ends up pregnant, I will be the happiest man on the planet, because I can't think of anyone I'd rather have a family with. I won't leave her."
I… pounced on him. I mean, literally jumped up, growled, and kissed him senseless. Then I came to my senses, saw Emiko and Bill sitting there smirking, Sabby frowning, and Aika and Mika with their mouths dropped. I cleared my throat and sat back down primly.
"Well, then," Emiko said delicately. "i guess that settles that."
Bill giggled. I just looked at him. "What?", he said. "That was funny"
Aww. I guess it was kinda funny. I mean, the look on Aika's and Mika's face… I giggled a bit too.
Anyway, an hour or two later, we drove back… it had started raining and we drove through some pretty heavy rain on the way back to Austin. Yaaaay!!! We need the rain!!! How nice!!! And we're supposed to get some tomorrow too!!!
Now, for a little bit of a bonus, but only if you're a Patreon subscriber!!! This isn't the kind of patreon-specific content I've had before, but I found a picture of me on the beach in Florida wearing a swimsuit!!! But I don't want just everyone to be able to see it. So if you're a patreon subscriber, there's a picture below. If not, well, sorry!!! But for you, I'll have a picture too!!!
Here's a picture for y'all that aren't Patrons!!!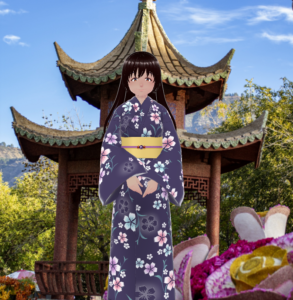 That's me in Japan wearing my kimono!!!!
Love you all!!! ❤